Are you a Bangalorean? Well, go through the list of things listed below and tell us if you can relate to it.
Frustrating traffic on your way and back from office

Monotonous daily routines

Same old malls and pubs and household chores during weekends

Surviving on discount coupons and BOGO offers

Dust, dust and more dust. And yeah, vehicle fumes and random garbage

Dogs. Hunting in packs at night. (Yikes!)
Our calculated guess is that you could relate to at least 3 out of the 6. Well, this could be that its time to give yourself a break. Head out to the wild, get some fresh air, disconnect from the city and simply unwind.So to all the Bangaloreans out there who desperately need a break, here are some camping spots in and near Bangalore. So grab a friend and go solo, and revive yourself.
Prepping For The Trip
It might be a simple one day trip, but you need to prepare yourself and carry everything you need. Before you head out, check the weather forecast and identify amenities available nearby like hospitals/eateries/fuel bunks etc. You should be just fine, given that these places have enough guides and facilities to keep you safe. Still, here's the list of things you'll need.
Tent
What's a camping trip without a tent? Staying in a hotel would take the meaning right out it and not having a tent could be dangerous. You'll get insect bites and that isn't healthy. And God forbid a snake comes slithering your way decides to sink its teeth into you.  "Anyhoo", you get the idea right? A tent is essential.
BTW, buy a tent could be expensive. Unless you are regular at camping (good going!), it doesn't make sense. Instead, you can rent a tent that accommodates 2,4 or 6 people from Guarented.
Sleeping Bag
Well, you cannot just lie down on a random bed-spread/mat out in the wild. The ground needn't be level and it isn't really good for your back either. Besides, it is always safer to be inside a zipped up sleeping back (remember what we said about random snakes passing by?). So yeah, rent a comfy sleeping back with Guarented and that is one thing less to worry about.
Accessories
A rucksack to keep your things safe (please don't think about carrying a 4-wheeler suitcase. You cannot pull one through rough terrains), a stove for emergency cooking/heating and candles/flashlights. You may also want to carry a whistle or anything that makes noises loud enough to scare away all things living (and dead). A swissknife, emergency medicines, a change of clothes and toiletries are must haves too.
You can rent rucksacks and stoves from Guarented. They're very economically priced. Oh, make sure the bag isn't to heavy. Always pack light.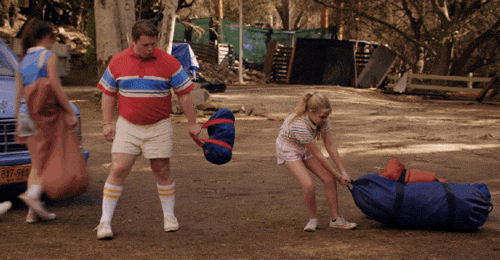 In fact for a single day camping trip, you can get everything you need in under INR 1,000/- from us. Ain't that so much better than buying all those things only to shove them away till your next trip?
Where Can You Camp?
Thankfully, Bangalore does have some good spots in close vicinity. Here are some of them.
Manchinbele
Popular as a team outing kind of location, Manchinbele is ideal for a day outing as well because of the sheer no. of activities available there. One can spend the day doing things like paintball matches, tight-rope walking and then retire for the night in a cozy tent (remember the one you will be renting from us?).
Savanadurga
Located approx. 60 Km away from Bangalore, Savanadurga is hugely popular for caves and granite cliffs. Some claim that Savanadurga is the largest monolith cliff in the South. Head there for some unlimited fun and an experience unlike any other!
Kanakpura
The Nature Adventure Club in Kanakpura is located close to lake Hosadoddi and a stone's throw away from the forest of Bananthimari. Canoeing and paddling are among the more popular activities this club has to offer. Spend a night under the stars at Kanakpura and connect with nature.
Ramnagaram
A beautiful valley situated around 50 Kms from Bangalore, is a picturesque complete with tall coconut trees and beautiful hillocks. Popular for activities such as trekking and Channel crossing, this place is one of those quieter, barely-touched by man kind of spots.
Bheemeshwari
More of an adventure sport kind of destination, Bheemeshwari sits 120 kms away from the hustle-bustle of Bengaluru and holds within it a paradise for nature and adventure lovers. Thanks to river Cauvery that cuts through it, kayaking, canoeing and a host of other water activities are made possible here. Truly, a must visit spot for all nature lovers.
Safety First, Fun Later
It goes without saying that any activity that doesn't give enough importance to your safety is a questionable activity. We're sure that you guys will look after yourself well, however, be sure that you prepare a list of things you should do/carry for the trip and a set of emergency contacts to reach out to in the event of an emergency.
So rent the gear, pack up and go camping!
P.S. – Do come back and share your experiences with us.